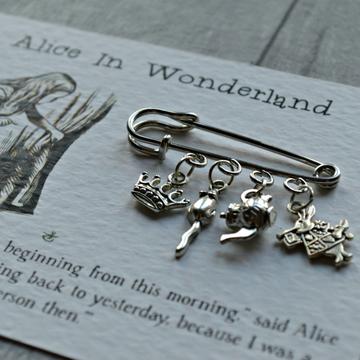 How did the idea for the business come about?
I had a party coming up and I had an image in my head for an Alice In Wonderland necklace. So, after searching and searching I ended up making one myself! I went to the party and everyone asked where I got it from. When I told them I made it they asked if I could make them one and so that was literally the first product I ever made, my 3 charm Alice In Wonderland necklace. So it rolled from there, and as I was doing an English degree at the time, I took my love of literature and put my own spin on them, creating literary gifts for book lovers.
When was the company first established?
I started to develop my own brand in August 2016, and I haven't looked back.
How is the business doing?
It's getting there, it's a slow process, you can't just be up and running in a few weeks of starting your own brand and expect to have orders pouring in. It takes long hours and planning to become a trusted brand. When I first started on Etsy my target was to hit a 100 sales in a year and to have at least 50 products. I hit my sales goal on Etsy about a week before my year anniversary, and around that time I launched a new line of products.
Since the company began, what has been the biggest challenge?
Probably online marketing, which is something I'm working on with various courses, and I am getting better at. When you have your own branded business, you wear so many hats.  You have to be the face of the company when you attend network meetings and courses, so sometimes online marketing can be a challenge when you have a million things to do.
What makes you stand out from your competitors?
I'd like to think my artistic style stands out the most. I use a lot of vibrant colours and try to bring the pages of a book to life, even for the jewellery backings. I know some of my customers ended up framing my greeting cards and bought a duplicate to send to their friends, which is always lovely to hear.
What's been your best business decision?
I attended a very large gift show at the beginning of November this year at an exhibition centre where they hold conventions like comic-con etc. I invested a lot of money with no guarantee on a return. Although I run small stalls and festivals throughout the year, the sheer volume of people that not only bought from me, but made such amazing comments at the show honestly meant the world to me. To be able to see their reaction in person is truly wonderful, and making the decision to put myself out there is definitely the best decision I ever made.
What is next for Nabu?
I'm hoping to expand on two more platforms next year, and I'm launching a new product line in January so watch this space…
If you could help one business now with a single piece of advice, what would it be?
Learn, test and tweak.
Don't know how to do something that will further you're business? YouTube, books, courses and mentors are all there for you to use. Not sure if people will like your product? Test it.
Finally, what is your favourite biscuit?
Rich tea for sure. Such delicious, tea soaked squidgy goodness!