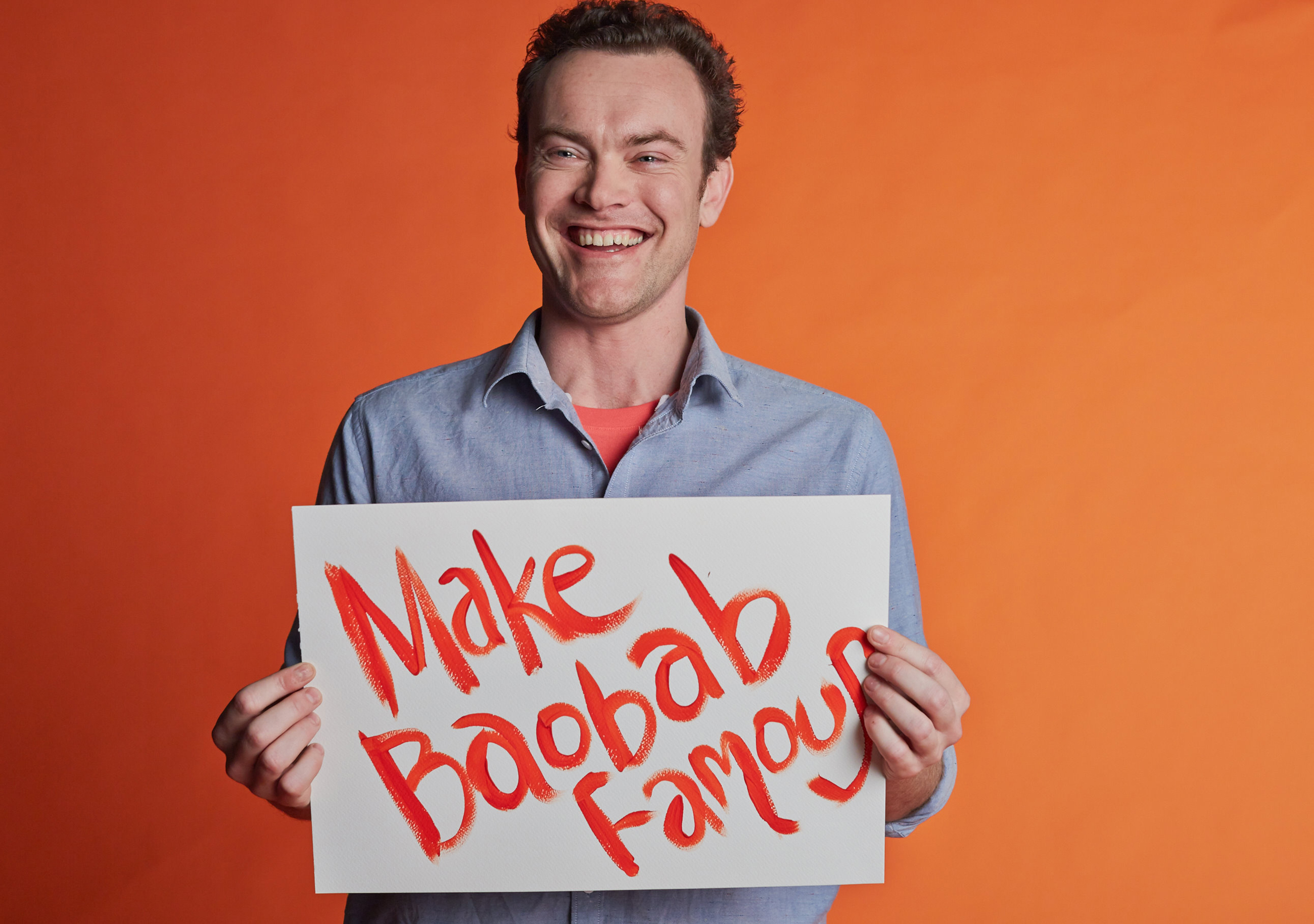 So, what do Aduna do?
Aduna is an Africa-inspired health food brand and social business. We connect small producers in rural Africa with the global health food market. This involves identifying Africa's most exciting and nutritious natural products (like baobab fruit and moringa leaf), and transforming them into functional and delicious health foods. We work all the way from the village to the shelf, sourcing from hundreds of small producers and selling our range of superfood powders and energy bars in 2000+ stores in 18 countries.
What's behind the business idea?
I spent several years working in a London ad agency before having a radical life change that lead me to The Gambia, where I spent four years working with small producers of fruits and vegetables. I got completely inspired by the vibrancy of Africa and switched on to a kind of business in which commercial success and positive impact go hand-in-hand.
I also became present to the huge scale of the opportunity: more than 25% of the world's botanical species originate from Africa, but less than 1% of the natural products that are sold in the one trillion dollar global health & wellness industry.
I started thinking about how to bridge this divide and, together with my Co-Founder Nick, we hatched the idea of Aduna.
Was it hard becoming a business owner?
Taking the initial leap of faith is obviously huge. Then you have the start-up phase, which is incredibly fun, exhilarating and creative. Five years in it is an entirely different beast and has become about management. As long as you are truly passionate about your business then you always find a way to stay motivated and overcome the challenges!
How did you recruit your employees?
At the very beginning we used various online platforms to recruit a small army of volunteers who were inspired by our mission of creating of a global market for baobab fruit, which has the potential to create sustainable income for 10 million rural African households.
We spent six months doing in-store demos and, as a direct result, took baobab from obscurity to London's best-selling superfood. We're proud to say that the best of those volunteers were hired and, four years later, are still with us and doing great things. In 2014 we followed this up by using LinkedIn to recruit several high capacity hires to help take us to the next level.
Was there a breakthrough moment?
Overall it has been more of a constant "drip, drip", although last year we launched our first major creative campaign to #makebaobabfamous, where we enlisted the support of retailers, influencers, our customers and bloggers to help spread the word about baobab. This included a window takeover of all 750 UK Holland & Barrett stores – and they even changed their name to 'Holland & Baobab'! The campaign achieved 127 million impressions and helping create a real breakthrough in awareness of both the Aduna brand and, of course, baobab.
How is the company doing?
In our first four years we have grown very fast, achieving CAGR of 225%. Last year we reached £1m in turnover, achieved our first two profitable months and tripled our baobab production in Northern Ghana. We are now working with 700 women producers who are receiving life-changing sustainable incomes.
We have just closed our first equity crowdfunding campaign on Seedrs where we hit our target within just 48 hours, going on to raise £470K from 370 investors. We will be using the funds to expand our distribution and launch a major new Africa-inspired product range later this year. So things are looking very positive!
Do you have any regrets if so how did you overcome them?
If we were starting the whole project all over again there are definitely a few things we would probably do differently, but I think that's just part and parcel of the learning process. In a start-up you have to identify things that aren't working very quickly and then set about fixing them.
What makes you stand out from your competitors?
Aduna has three USPs:
Our authentic Africa-inspired brand
Our pioneering African superfood ingredients
Our social mission
This combination gives us a very clear positioning, point of difference and purpose within the market – something which many brands struggle with.
What is your definition of a positive customer experience?
Like any other health food brand it is crucially important to us that our customers enjoy the taste and also feel the benefits of using our products. However, with Aduna we seek to go beyond this by creating a connection between consumer and producer. Our most loyal customers love the fact that by using our products they are making a positive contribution to families in some of the most marginalised communities on earth.
If you could help a business now with a single piece of advice, what would it be?
My number one piece of advice for budding entrepreneurs is always the same: don't even think about doing it unless you are truly passionate. Creating a successful business is a huge challenge with many ups and downs, and sometimes it is only the passion that will keep you going!
Finally, Andrew what is your favourite biscuit?!
I'm going to go savoury. It's going to be a Carr's Water Biscuit with slightly salted butter and a cheese platter (of course).