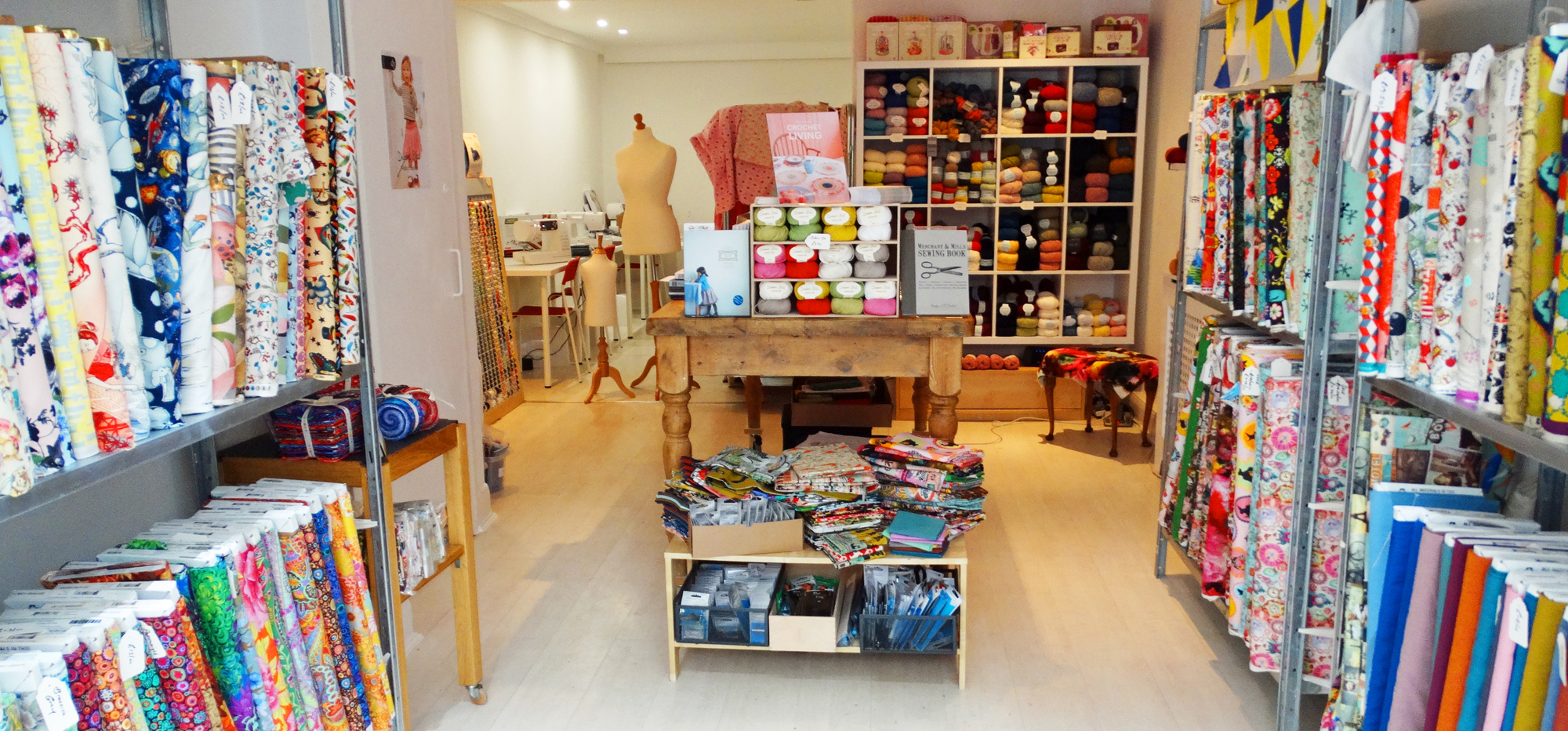 So, what does Fancy Moon do?
We're a contemporary, London-based, multi-channel craft and haberdashery business for both modern makers and textile professionals. We have an Ecommerce Business, a High Street Shop and a Textile School which form a vibrant, creative hub through which we engage with our 14,000 strong registered global customer base.
We've built a great reputation as the 'Go-To' shop for fabulous, rare and unique modern fabrics that are just really hard to find and these are sold alongside more mainstream fabrics, knitting yarns, patterns, tools and haberdashery. Our Textile School teaches sewing, dressmaking, pattern-cutting, knitting, crochet, soft furnishing and runs kids craft classes.
What's behind the business idea?
Fancy Moon was established at the kitchen table in 2011. It grew out of a passion for making things, and a frustration at the lack of fabulous, original, exciting, and affordable modern materials in the UK.
I just saw this gaping hole in the market, so I started hunting around, sourcing and importing these brilliant fabrics from small-scale designers, and soon I had a full-time online business retailing these fabrics that were fantastic and beautiful, and just so contemporary….they were completely new to the UK so our niche was pretty instant.
The UK craft market is currently valued at £3.4bn and is growing at a rate of 4.5% a year, fuelled by TV programmes such as the BBC's 'The Great British Sewing Bee' and Kirsty Allsopp's Channel 4 Hit 'Handmade Britain'. It gave us a ready-made customer base of makers, crafters and bloggers to tap into, who were equally eager to find new and original materials.  The business just took off!

Was there a breakthrough moment?
There've been several! In our first year of trading we reached online sales takings of £14.5k a month (which was a lot to deal with from the kitchen table!) so we soon had to move the business into a fulfilment space.
Being featured in Vogue, The Independent on Sunday, Living Etc, The Evening Standard, and receiving fabric orders from The Royal Opera House, Sadlers Wells, Glyndebourne, and London School of Fashion – you really feel like you've been noticed and people like what you're doing.
Then when we opened the High Street shop earlier this year, customers travelled from all over the country and some actually flew in from Germany and France to visit us on our opening weekend!
How is the company doing?
It's a hugely exciting time for Fancy Moon! After several years of online trading, it's great to finally have the high street shop and textile school – albeit in pop-up form! Having these real-life forums (in addition to digital selling) enables us to really connect with our customers face-to-face in a way that you just can't online. As a result, we have a much deeper and richer understanding of our customers, who they are, what drives them to create, what they need or want from us in terms of product, service or skills training. It's really informed our strategy across the whole business, as well as opening up new revenue streams and business opportunities.
Do you have any regrets?
Only that we didn't set up the shop and textile school sooner! The combination of e-commerce business, High Street Shop and Textile School work seamlessly together, supporting and complementing each other. It's a great business model and it's given us enormous scope for growth.
What makes you stand out from your competitors?
Our really strong reputation as the go-to shop for fabulous, rare and unique modern fabrics that are otherwise hard to find. It's attracted regular customers from all over the world. We have great relationships with our suppliers, and we're able to source and secure exclusive fabric ranges that you can't get anywhere else. They're often made in small print runs so when it's gone – it's gone! You wouldn't believe how many fabric addicts there are out there, snapping up and hoarding this stuff until they can muster the strength to actually cut into it!
What is your definition of a positive customer experience?
For me, my favourite customer experiences are the ones where a someone arrives at the shop because they're just tagging along with another customer, not imagining for a minute that they'll leave with a bag full of materials and their mind racing with creative possibilities! This happens pretty much every day. They only have to be in the shop for a minute or two before they're reminiscing about a relative who made things, or remembering the joy, and sense of achievement they felt when making things as a child. These are the customers who come back a week later to show you what they've made, book a class, plan their next project and buy more materials. It's fantastic to be able to connect people with their creative side, and I love watching our students delight in what they've learned or what they've achieved during the course of a class or a workshop. We've seen several new collaborations made and even a couple of small businesses form through our workshops. I absolutely love being part of all of that.
You're currently reaching out for investors, what do you plan to do when you have raised this funding?
We're funding to drive growth and efficiency. Specifically, we need to make our Pop-Up Shop and Textile School permanent, expanding the classroom size and creating an order fulfilment area within the shop. We need to invest in a real-time inventory management system that can handle incremental fabric sales. This will enable us to confidently and aggressively drive our sales, launching in three new online sales channels over the next twelve months. And finally, website improvements that will give us the ability to sell in multiple languages and currencies.
As part of our growth we're creating three apprenticeships over the next two years; our apprentices will be trained across all areas of our e-commerce and retail business as well as gaining valuable skills training within our Textile School giving them a great start to their career (which we hope will be a long, fulfilling and happy one with us!).
What advice would you give yourself now if you were starting a business?
Get a mentor (or two) as soon as you can. Their insight and advice will be invaluable.
Finally, Nancy what is your favourite biscuit?!
Melt in the mouth shortbread – homemade of course!