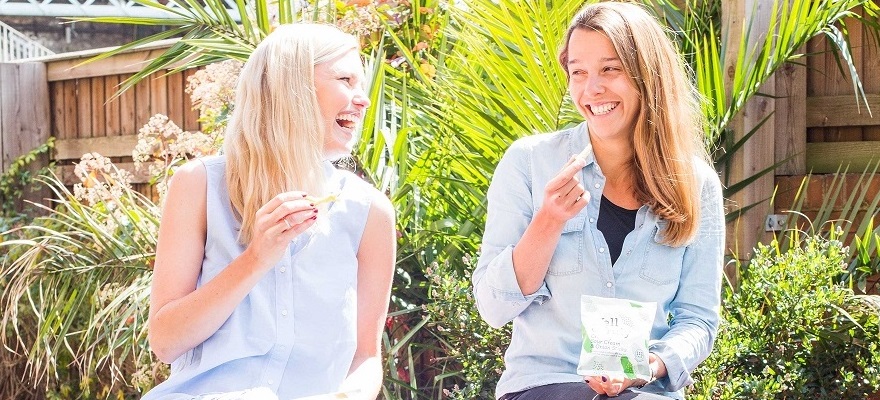 How did the idea for the business come about?
We saw a gap in the market for an innovative & exciting British brand with great tasting everyday snacks that were also better for you whether it is lower fat or fewer calories. We use creativity rather than additives to make great tasting all natural everyday snacks with flavours that consumers love and crunch that satisfies your snack craving.
We are passionate about simple swaps that drive a real health benefit to the UK consumer and since launching we have removed 5.7 million grams of fat from the UK snacking supply chain.
When was the company first established?
Well&Truly was set up in 2015 and launched in February 2016 when we went from 0 stores to over 1,000 tesco stores overnight.
How is the business doing?
We are growing quickly and are now stocked in over 1,600 distribution points including Tesco, Ocado, Google, Wholefoods, Booths, As Nature Intended and over 100 independent stores. We also now have 4 products in our range and will be launching another 4 next year.
We are proud to have been voted a top UK 100 startup for 2 years running and were just accepted into the Entrepreneurial Spark Scale program (powered by NatWest).
Since the company began, what has been the biggest challenge?
As a start-up you face challenges on a daily basis. You need to juggle so many roles and tasks which you don't always have experience in, but being co-founders has helped us a lot as we always have someone to bounce ideas off and challenge each other. Two of our biggest challenges at the moment are always being on top of our cashflow to ensure we can continue to launch new products and building the right team to help us grow.
What makes you stand out from your competitors?
We launch everyday snacks which are also healthier and pack a punch when it comes to flavour. Any snack we bring to market is rigorously tested to ensure that it is "moreish" enough to warrant being part of the W&T product lineup. For us, innovation is key and all our products are first to market. We only use all natural ingredients, are certified gluten free and each product has at least one further secondary health benefit whether it is lower fat or fewer calories.
Building a scalable business was one of our key objectives when we set up Well&Truly in 2015 and has help us grow quickly. All our partners including factories, logistics providers, warehouses and financial reporting systems were chosen with scalability in mind and we tested them all when we launched into over 1,000 stores overnight.
What's been your best business decision?
Over funding on our last round of investment as this has allowed us to focus solely on growing the business, move faster and invest behind some key sales initiatives.
What is next for Well and Truly?
Next year is an exciting year for Well&Truly, as we will be launching 4 new products and will also be relaunching the brand to firmly position us in mainstream snacking, watch this space!
If you could help one business now with a single piece of advice, what would it be?
Do it! It's the best thing we've ever done but make sure you have a good network & team around you to help guide you and offer advice when you need it. Maria & I (co-founders) both say that we couldn't do it on our own, being able to share the journey with someone has made all the ups and downs so much better. We also built a good network of other start-ups who we meet for a chat or coffee. The start-up scene in London is very supportive and always happy to share any advice or tips.
Finally, what is your favourite biscuit?
It has to be a ginger snap as nothing beats the strong flavour and crunch.