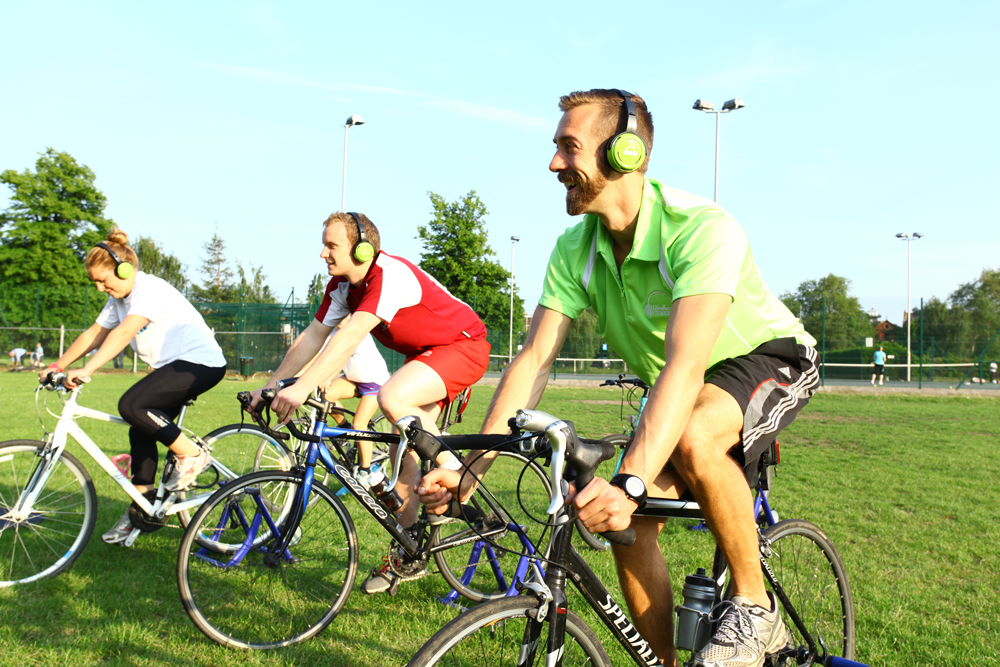 So, what do Wireless fitness do?
Wireless Fitness technology let's fitness instructors and gyms run exercise classes with music, without disturbing anyone nearby. We created the world's first all-in-one portable transmitting system using wireless headphones, meaning Zumba in the park, BodyPump on the beach and Clubbercise on the roof! It also keeps noisy indoor classes (usually Spinning) quiet too, meaning they don't put other gym users off their own workouts.
What's behind the business idea?
Myself and my co-Founder, Dom Thorpe are both personal trainers. We saw the rise in popularity in outdoor exercise and the sustained popularity of classes with music, and in a 'lightbulb' moment, realised we could bring them both together using silent disco technology. The Wireless Fitness tech allows instructors to run bigger classes, so make more money per hour. It also allows gyms to keep their members happy, by silencing noisy classes.
Was there a breakthrough moment?
Not a moment as such, just a growing focus on what was important. In the last year we both studied marketing in more detail, and really started to understand who our best customers were, how to speak with them and how to price the equipment.
How is the company doing?
Thanks to the increased focus, we love where we are now as the company is growing faster than ever. We know who best to target and how to reach them. We've also been more open to partnerships, allowing us to further our reach for little or no extra cost.
Do you have any regrets?
No. They're a waste of time!
What makes you stand out from your competitors?
We don't technically have any competitors. Our closest rival is the traditional exercise studio, with a dodgy old stereo in the corner and a crackly mic pack, where every member of the class has to have the music the same volume. Other silent disco companies exist and have tried to sell their equipment for fitness classes, but our equipment is unique because it's all housed in just one unit and is entirely portable.  We brought a new concept to market, so we faced inertia from the fitness industry at the start, but now we've been out there long enough that people from all over the world find us out, to solve their fitness audio problems. We've sold equipment to Canada, the US, Spain, Italy, Germany, Lebanon and Iran; Australia you're next!

What is your definition of a positive customer experience?
When a customer is willing to recommend us to other people in the fitness industry. When we get personal messages from our customers saying we have the best customer service of any company they've ever worked with. I used to work in marketing, so I pride myself on my client relation skills.
You're currently reaching out for investors, what do you plan to do when you have raised this funding?
The big goal is to build an App version of Wireless Fitness. We started last year, but are gearing up to tackle it again. The App will provide the same service as the current physical equipment, however with it, all you'll need to run a class, or be in a class, is your own phone and own headphones.
What advice would you give yourself now if you were starting a business?
Figure out and then continue to hone who your customer is to the Nth degree. Just keep on doing it, discover not just about their business, but about them – what they watch on TV, where they go on holiday, everything.
Finally, Matt what is your favourite biscuit?!
Ooh, a warm, gooey white chocolate raspberry cookie. Is that allowed?!